As a chef, I love nothing more than bringing family and friends around the dinner table for a home-cooked meal. And eating together doesn't have to be a big to-do.
Choosing the freshest seasonal ingredients and using them in unique ways is easier than you may think. From a one-skillet vegetable paella, to a Southwestern spin on a quick shepherd's pie, to a turkey–cheddar melt with crisp fall apples, cooking simple, healthy meals for your family is within your reach.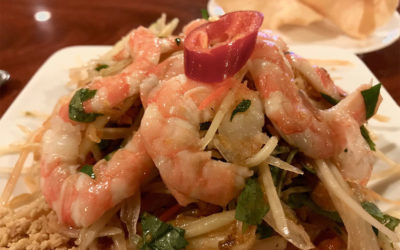 4 Servings / Serving Size: 1/4 recipe  8 ounces peeled and deveined shrimp 1 carrot, peeled, julienne on mandolin 1 each Kirby cucumber, thinly sliced (can use English) 1 medium pomelo, peeled, diced into large chunks (can substitute papaya) 1/4 cup mint...
read more